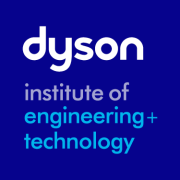 Dyson Technology Ltd
Make your degree a career defining experience.
Our Undergraduate Engineers work alongside the Dyson Global Engineering team from day one. They contribute to live projects, while studying for their BEng (Hons) Engineering degree apprenticeship. With a competitive salary and no tuition fees to pay, they can graduate debt-free.
As a first year Undergraduate Engineer, you'll live on-site in a modern accommodation pod, set in the beautiful Wiltshire countryside. The campus is within easy driving distance of the thriving cities of Bristol, Bath and Gloucester. You'll be part of a small and close-knit cohort, while simultaneously being part of a 4,000-strong team of smart and ambitious Dyson people on campus. If you have a passion for solving problems and a fascination for how things work, the Dyson Institute of Engineering and Technology could be for you.
Looking for jobs and apprenticeships? We can match you to potential employers.
Just create a UCAS account and fill in a quick form to tell us what you are interested in, where you live, and how far you want to travel.
Subscribe for smart alerts
Dyson Technology Ltd
Dyson Institute of Engineering and Technology, Tetbury Hill, Malmesbury, SN16 0RP
Visit our website
Company information
Headquarters:

Malmesbury

Founded:

2017

Industry:

Engineering, Technology