ATAC
Join our Ever-Growing Advanced Therapies Apprenticeship Community
Coordinated by the Cell and Gene Therapy Catapult, we are the Advanced Therapies Apprenticeship Community (ATAC). We aim to develop talent within the cell and gene therapy industry to meet its ever-growing needs.
By doing an apprenticeship with ATAC, you become part of a group of apprentices and employers who will be provided with ongoing support throughout your apprenticeship journey. The industry is looking for scientists and non-scientists alike as there are a variety of roles to choose from. An apprenticeship with us is a chance to begin your career path into an industry which is hugely rewarding and will help to transform people's lives.
What is ATAC?
Watch this video to find out how ATAC supports the advanced therapies industry.
Driving the Workforce of Tomorrow
Advanced therapies have the potential to address significant and growing unmet healthcare needs.
Whether you're at the start of your career or building on your skillset, undertaking an apprenticeship means you can combine work with study by mixing on-the-job training with formal learning. On completion of your apprenticeship, not only will you obtain an accredited qualification, but you will also have gained new transferable skills which will help propel you into the professional workplace. An apprenticeship is made up of several components that are put together to create a 'standard', which, when complete, demonstrates occupational competence within the studied area. The programme structure will be based around competencies and skills, knowledge, behaviour and transferable skills. There are various levels ranging from level 2 up to level 7 across categories including: Research and Development, Science Manufacturing and Engineering, Leadership and Management, Quality and Regulatory and Logistics. Apprenticeships are a minimum of 12 months typically for an intermediate (level 2) programme and can be up to five years for higher (level 4 and 5) and degree (level 6 and 7) apprenticeships.
Looking for jobs and apprenticeships? We can match you to potential employers.
Just create a UCAS account and fill in a quick form to tell us what you are interested in, where you live, and how far you want to travel.
Subscribe for smart alerts
Perks and benefits
Employee assistance

Learning and development

Pension

Rewards and benefits

Wellbeing scheme
ATAC
12th Floor Tower Wing, Guys Hospital, Great Maze Pond, London, SE1 9RT
Visit our website
Company information
Headquarters:

London

Founded:

2018

Industry:

Cell and gene therapy, Vaccine manufacturing, Advanced therapy medicinal products, Life sciences
What is it like to live in London?
Check out our city guide
Spend your student years in one the world's most cosmopolitan and fashionable cities, where the word 'boredom' doesn't exist.
Learn more
Testimonials
We kept progressing, improvising and learning.

There has always been good communication and explanation of what has been expected from us. I have been able to bring fresh ideas to different things and get the hands-on experience I wanted to gain.

A massive pat on the back

One of my proudest moments so far was Intertek trusting me to deliver a client's project, to GMP requirements, on my own. This has been a massive pat on the back and shows how much my manager trusts me.

My proudest moments

There have been a few standout moments in my apprenticeship – like when I was getting ready for EPA and I looked back at everything I learnt over the last few years. It made me realise how much I've grown in my profession and how I have been trusted to train others.
University partners
Aston University, Birmingham

Manchester Metropolitan University

University of Strathclyde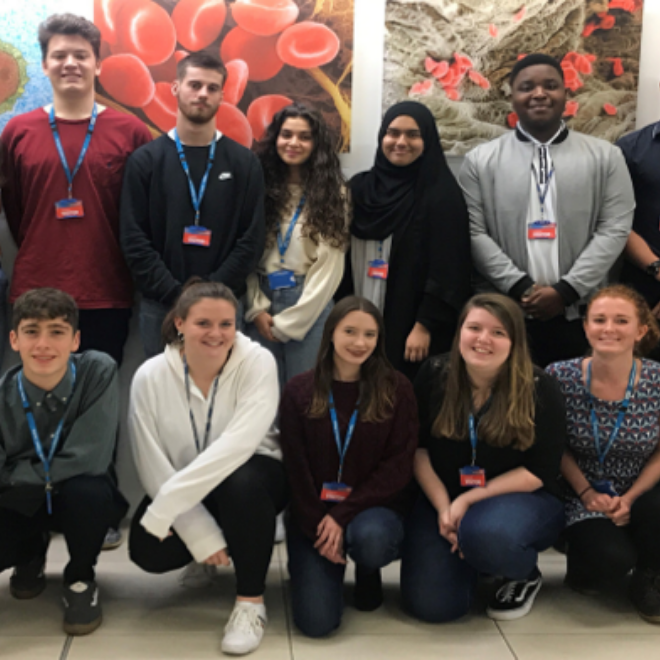 Culture
The Advanced Therapies Apprenticeship Community is the first apprenticeship programme designed specifically to train and upskill individuals in developing, manufacturing and delivering these innovative therapies at scale. ATAC really is a community. Whether you're new to the industry or advancing your career, we are here to help. Not only will you receive ongoing support throughout your apprenticeship, ATAC will introduce you to the wider industry through networking events, provide you access to the ATSTN online platform, and provide complimentary learning activities such as site visits.
Values
The Advanced Therapy Apprenticeship Community adopt the four key values from the Cell and Gene Therapy Catapult. With our community being people focused, we aim to create an environment of trust where our apprentices can develop and progress to the fullest extent. We value the benefits of working collaboratively to achieve our goals faster and better whilst continuously learning from one another. Our aspiration to make the UK a global centre for cell and gene therapies is bold and we work towards it every day in partnership with our collaborators and stakeholders. We are innovators in all that we do, we are empowered to make decisions, try new things and discuss ideas openly. This is applicable beyond science and technology, it's true for everyone who works with us.