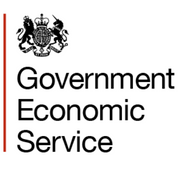 Government Economic Service
GES makes a meaningful change to lives in the UK
The Government Economic Service (GES) is the professional body for economists in the UK Civil Service. GES encourages the good use of economics in Government, offering insight based on analysis and evidence, in order to deliver high-quality services for the public.
The Government Economic Service offer the UK's first economics degree apprenticeship, which will allow you to gain valuable experience whilst receiving a tuition fee-free degree awarded by The University of Kent. Consider applying if you wish to make a meaningful change to the lives of UK citizens and work alongside other change-makers across the country.
Looking for jobs and apprenticeships? We can match you to potential employers.
Just create a UCAS account and fill in a quick form to tell us what you are interested in, where you live, and how far you want to travel.
Subscribe for smart alerts
Government Economic Service
1st Floor, 1 Horse Guards Road, London, SW1A 2HQ
Visit our website
Company information
Headquarters:

London

Founded:

1964
What is it like to live in London?
Check out our city guide
Spend your student years in one the world's most cosmopolitan and fashionable cities, where the word 'boredom' doesn't exist.
Learn more