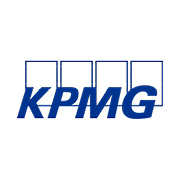 KPMG
Your ideas can help make a difference
KPMG in the UK is part of a global network of member firms that offers Audit, Consulting, Deal Advisory, Tax & Law and Technology services. Through the talent of over 15,000 people, we turn insights into opportunities, making a positive difference for our clients.
Our largest practice is Audit, which helps to build trust in businesses and the economy and has a relentless focus on audit quality. In Consulting, Deal Advisory, Tax & Law and Technology & Engineering, we help companies solve challenges, transform businesses, develop confidence in markets and build stronger communities. Like the organisations we work with, our firm is truly embracing change and we're creating a tech-driven, sustainable business that empowers our people to be outstanding in delivery and have a lasting impact on the world.
One Blue Marble
Joining KPMG means working for a firm that supports people to be their best and make their mark, empowering people to build the career they want. To discover more about our Apprenticeships and imagine your future with us, visit our careers website, kpmgcareers.co.uk/apprentice.
Our Apprenticeships
We offer apprenticeships in Audit, Consulting, KPMG Business Services, Tax & Law and Technology & Engineering nationwide.
As an apprentice at KPMG, you'll gain valuable work experience, develop professional skills and be supported in your studies towards funded professional qualifications and degrees – all whilst earning a salary. Whether you're in your final year of school or college or seeking a new career opportunity, joining KPMG as an apprentice means being part of our diverse community where people can come as they are and thrive. We're known for our collaborative culture, with people who take care of each other and bring their unique experiences and perspectives to build a better future together. Our diverse employee networks and learning community will help you to develop connections and build new friendships, not just for today, but for your career ahead. There are also plenty of opportunities for you to get involved in our volunteering and community initiatives, so you'll be encouraged to make a positive difference outside of the office too.
Looking for jobs and apprenticeships? We can match you to potential employers.
Just create a UCAS account and fill in a quick form to tell us what you are interested in, where you live, and how far you want to travel.
Subscribe for smart alerts
KPMG
15 Canada Square, London, E14 5GL
Visit our website
Company information
Headquarters:

London
What is it like to live in London?
Check out our city guide
Spend your student years in one the world's most cosmopolitan and fashionable cities, where the word 'boredom' doesn't exist.
Learn more
Testimonials
Supportive

KPMG have provided support to all throughout studies and saw potential in me that gave tool to unlock that potential