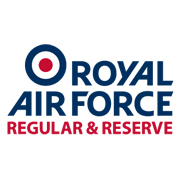 Royal Air Force
FIND YOUR ROLE
A career in the Royal Air Force is like no other. From the speedy role progression to the unrivalled skills and training you receive; all whilst travelling around the world and making friends for life, it really is No Ordinary Job. Start your RAF journey today.
You'll play an important part in responding to threats, preventing conflict, delivering aid and work in partnerships with other military services, government or civilian authorities. We offer scholarships, sponsorship and apprenticeships to support outstanding candidates to get the education you need and for your career to take off. We train everyone to the highest standards in order to gain invaluable skills and qualifications. The bonuses and benefits are unbeatable; from subsidised living to gym memberships, sporting opportunities and discounts.
Looking for jobs and apprenticeships? We can match you to potential employers.
Just create a UCAS account and fill in a quick form to tell us what you are interested in, where you live, and how far you want to travel.
Subscribe for smart alerts
Royal Air Force
Visit our website
Company information
Headquarters:

-

Founded:

1918

Company size:

30,000+

Industry:

Defence