Borrowing a little from various Scottish cities, the country's third largest city has history, culture, countryside, and nightlife to please everyone.
Despite being a fairly small city, Aberdeen has a great mix of cultural, natural, and urban spaces. In one day, you could venture out into the nearby countryside to visit a castle, go dolphin-watching at the beach, eat at an award-winning local cafe, and meet your friends for a drink in one of the many bars on Belmont Street – the hub of most of the city's nightlife. There is something for everyone, it is completely accessible for students, and complemented by the unique local culture and dialect. (Second year student, University of Aberdeen)
Aberdeen nightlife, according to students
The nightlife is really good, especially for freshers and sport clubs. Underground, Tunnels, Prohibition, and Paramount are really popular. Students who visit Aberdeen say they have one of their best nights out here. Because most clubs are centred around one place, it feels very safe as you constantly see students everywhere. The main Street is Union Street, and you also have loads of food places open late at night, and a taxi rank located less than a three-min walk from most clubs/pubs. (Second year student, University of Aberdeen)
Vibrant sea life
You might not expect bottlenose dolphins or basking sharks in Scotland, but both can be spotted from Aberdeen's seafront.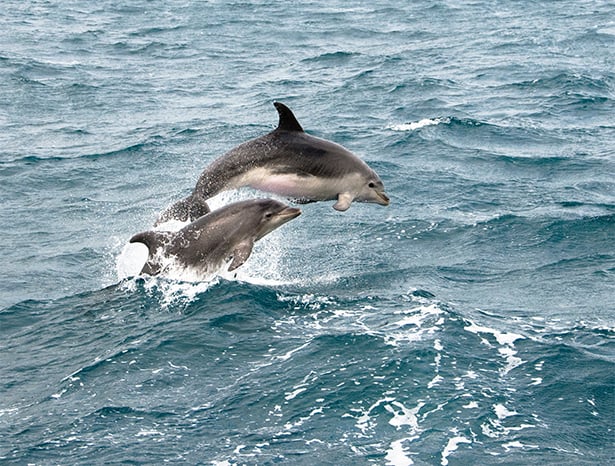 Aberdeen nightlife, according to students
For something a little more reserved, with specially made whiskey cocktails, The Tippling House is perfect for a sophisticated night out. A little more crazy, with amazing tunes and cheap drinks, would be Underground. It's also a hive for [the LGBT community]. (Second year student, Robert Gordon University)
Epic scenery
Twice the size of the Lake District, the Cairngorms National Park offers stunning mountains, waterfalls, lochs, and much more.
​
Student life in Aberdeen
Local gems, tips, and things to do, as recommended by students.
Low on cash
Aberdeen's Art Gallery recently reopened after a revamp which cost millions – it truly is stunning! All of the museums and galleries are free in Aberdeen – all they ask for is an optional donation. (Third year student, University of Aberdeen)
Treat yourself
Amarone is a fabulously authentic Italian restaurant on Union Street, away from the chain restaurants of Union Square – bonus points since it doubles as an upmarket cocktail bar too! (Second year student, University of Aberdeen)
Friday night out
There are loads of pubs. The Bobbin is a pub that students like to go to, as it is located right next to the university. Tunnels is a little edgier. (Second year student, University of Aberdeen)
Sunday chilling
The paths that line the River Don and the River Dee are teeming with wildlife, and a pretty spot for your next Instagram pic. Duthie Park is worth the trek through town. (Second year student, University of Aberdeen)
When family visit
The castles around Aberdeen are always fantastic tourist spots. Newburgh Seal Beach, a little north of Aberdeen, makes for a great day trip. (Robert Gordon University student)
Feeling cultural
The Lemon Tree is a great venue for talks, comedy events, and other little quirky nights. His Majesty's Theatre always puts on a great panto at Christmas too! (Second year student, SRUC Aberdeen)
Catch up with mates
Books and Beans is a great cafe, and a second-hand book store, which creates a lovely atmosphere. Most of the cafes and bars on Belmont Street are relaxed during the day. (Second year student, Robert Gordon University)
Grab a bite
Grub is unreal. There's one near uni, and one in the city centre. They do filled wraps or paninis, and are amazing! I usually get a Kevin Bacon or a Hangover in a wrap. (Third year student, University of Aberdeen)
Outdoor events
There are always events like this, whether just outside Aberdeen – this was at Crathes Castle – to horror [film] showings at Slains Castle, [and] Duthie Park. (Samantha Edgar, second year student at SRUC Aberdeen)
Living in Aberdeen, according to students
Kittybrewster – I really like where I live. It's not too expensive, even though we're quite close to the centre (a 20-minute walk). We have multiple corner shops close by, as well as bigger supermarkets like Lidl, Morrisons, and B&M. There aren't really any restaurants or pubs close to here, but we have a chippy just a few roads down. It's also just next to campus, which is fantastic – it's just a ten-minute walk, not even. There are a lot of students around this [area], and neighbouring areas. I would definitely live here again. (Third year student, University of Aberdeen)
The beach
The ferris wheel located at the beach. I personally love visiting the beach, to unwind and to enjoy the sounds of the waves crashing on to shore. (Valerie Vasala, second year student at Robert Gordon University)
Aberdeen open day
Take advantage of the Aberdeen open day in September/October, to visit buildings that are not usually open to the public. Here's my boyfriend and I at the Confucius Institute. We we had so much fun with them that day. (Rossella, second year student at University of Aberdeen)
Living in Aberdeen, according to students
I chose to live in Rosemount, as it's central and a safe area. You sometimes have to be careful as to what areas to avoid in the city. For example, some parts of Torry are known to be dangerous. However, it does take me 40 minutes to get to the campus by bus or foot! So for RGU, I'd recommend Garthdee: it's a functional area, rural, not too far from the city, and the university is right there. I'm currently looking to move to Cults for my last year of uni, as it's near the cycle route and more rural. I'm a country girl at heart! (Third year student, Robert Gordon University)
Where you'll find students
Kittybrewster
Rosemount
King Street
Local transport
Weekly ticket: £18.60
First Group Student Week Ticket
Bus
Student money tips
The beachfront is a good place to park in town. It has free parking, a cinema, restaurants, and other activities. It's also only a ten-minute walk to the town centre, or a two-minute bus ride, and means you don't have to pay loads for parking. (Second year student, Robert Gordon University)
The cost of living as a student soon adds up, us our budget calculator to find out roughly how much you'll need each month.
​Discover more savings on student life in Aberdeen with UCAS student discounts. Find the latest deals, from fashion brands and eating fresh, to big discounts on tech and travel.