The UCAS Freshers Report 2022 is here
Unrivalled insight into student spends and trends
This year's report comprises 32 pages of expert analysis, covering spending, social, tech, travel and a deep dive into freshers' favourite brands. Based on 7,296 real student opinions, discover a series of trends set to affect every brand looking to engage with Gen Z.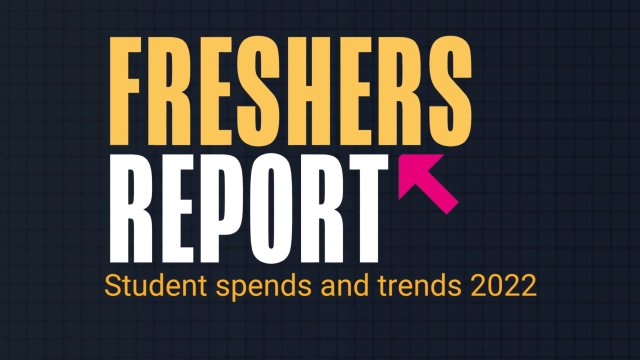 ---
Students have increased their spending once again
For the third consecutive year, amidst a pandemic which has repeatedly closed shops, bars, and nightclubs – student spending has been rising year on year.
In freshers' week 2019, they spent £368. In 2020, £406. In 2021, £421. 
In a typical week in 2019, they spent £214. In 2020, £229. In 2021, £235.
The generation shopping with its eyes wide open
Students are looking for high quality goods, cost relevant to value, and a good product range.
This year it's all about family, friends, health, and shared experiences
Students aren't yet ready to let go of the slower pace of life that they've adopted. And this will impact the way that brands must engage with them.
Report reveals new student shopping trends for 2022 – Dr Katie Bell
There's a growing list of preferences in the decision-making department when it comes to student spending. Today's students are part of a unique, nuanced, and thoughtful market. New behaviours have emerged, old habits have changed, and a different outlook on life has become their new normal.
This year's freshers have all but skipped the traditional precursor to higher education, arriving as adult consumers with a distinctive set of preferences, and clarity of what they do and don't want from the marketplace.
---
Catch up on our other Freshers Report blogs...
How 2021 changed student shopping and spending for 2022 - Nicola McClymont
Students might be spending more than ever before, but they've also never been this selective about it. Authenticity is the new currency for brand loyalty.
Whilst previous generations might have looked the other way for a bargain, today's student wants transgressions held to account. They want honesty, integrity, and authenticity, and they're willing to make sacrifices in pursuit of it.
Now live! Our new Freshers Report reveals a reshuffle of student brand preferences - Rebecca Hopwood
When it comes to brands, we can already see a pattern emerging - one that will likely define long-term consumer behaviour for a Gen Z population which is only just entering adulthood.
Brand preference and perception has been one of the most dramatic shifts this year. It seems 2022, the year which may signal a return to normal life, is the year where they can finally make themselves heard on the high street.
Get ready, report to reveal big changes in student consumer behaviours – Dave Penney
Get a taste of what's to come in our preview blog, where Dave begins to scratch the surface on what's been happening in student minds these past twelve months.
Today's freshers are challenging the typical student stereotype. They're favouring high quality products at a reasonable cost, and value individual expression and ethical decision-making.
Looking to target Gen Z?
Our reach and understanding of the student mindset personalises our approach to every brand we work with. We use our know-how, data and marketing tools to connect with the student audience and build a connection that could last a lifetime.
Please submit your details below to download our Freshers Report 2022 and/or send us an enquiry: