Students interested in apprenticeships could surge to half a million by the end of the decade, according to UCAS.
With 40% of students currently registering with UCAS – about 400,000 – interested in learning more about apprenticeships, new UCAS analysis indicates this could increase to 500,000 as the 18-year-old population rises.
This could offer significant economic opportunities for shortage areas. For example, at present 41% of students interested in medicine would also consider the apprenticeship route. As the population grows, so will the opportunity to recruit more doctors through this route.
UCAS's projection forms part of its national debate on the growing demand for UK higher education, known as the Journey to a Million, published in partnership with Knight Frank and Unite Students.
In its latest release issued today, sector leaders and experts outline that to achieve real parity with traditional undergraduate routes, students' growing interest in and ambition for apprenticeships must be matched by enhanced information, advice and guidance alongside increased supply of opportunities.
50 key thinkers from across the UK are giving their views on how to create greater demand and opportunity for apprenticeships, including:
'Those aspiring to an apprenticeship are surrounded by teachers who have little or no experience of this pathway.' – Andy Forbes, Head of Development for the Lifelong Education Commission and Apprenticeship Champion for UCAS
'The 4 million businesses in the UK, of which 99% are SMEs, are the untapped key that could unlock the pent-up demand for apprenticeships….A campaign to engage startups as well as would-be apprentices could be an effective way to help match young people into opportunities at these employers.' – Jason Holt, Chief executive, Holts Group of Companies
'Whilst it is clear A level and traditional higher education institution (HEI) progression routes remain prioritised, it is an important step that technical routes are given this promotion for pre-16 learners.' – Jennifer Coupland, Chief Executive Officer, Institute for Apprenticeships and Technical Education
How many of our teachers, parents, and career advisers know that if a young person aspires to become a solicitor, a nurse, a doctor, a social worker, a research scientist, even a rocket scientist that the traditional route is not the only one open to them now?' – Lindsay Conroy, UCAS' Apprenticeship Lead
Sander Kristel, Chief Operating Officer at UCAS, said: "Growing numbers of students are considering an apprenticeship as they recognise this can equip them with valuable skills and on-the-job experience to help them achieve their career goals.
"As we progress along the Journey to a Million, competition for places will increase, and some students will want to think differently about their choices. It is key that we present them with the full range of options – and that there is plenty of opportunity for them to grasp. We know at present demand for apprenticeships outstrips supply, and we need to unlock this."
Today we are releasing thinking from:
Courteney Sheppard, Head of Customer Contact, UCAS and David Penney, Director of Marketing, UCAS on How can we support 'A Million' good decisions?
Tom Ravenscroft, Chief Executive Officer, Skills Builder on How can we best prepare the Million for a rapidly evolving job market?
Dr Lisa Morrison Coulthard, Research Director: Optimal Pathways Development, National Foundation for Education Research (NFER) on What does the Journey to a Million mean for meeting the essential employment skills demands for the future labour market?
Bill Watkin, Chief Executive, Sixth Form Colleges Association (SFCA) on What does the Journey to a Million mean for the qualifications of young people?
Oli De Botton, Chief Executive, The Careers and Enterprise Company on What does the Journey to a Million mean for Careers Information, Advice and Guidance to students about their choices?
Andy Durman, Executive Vice President of Global Business Unit, Lightcast on What careers will the class of 2026 aspire to?
Jason Holt, Chief Executive, Holts Group of Companies on What does the Journey to a Million mean for employers developing their apprenticeship provision?
Andy Forbes, Head of Development at the Lifelong Education Commission and Apprenticeship Champion for UCAS on What does the Journey to a Million mean for the supply of apprenticeship opportunities?
Lindsay Conroy, Apprenticeship Programme Lead, UCAS on How do we provide parity for the Million?
Jennifer Coupland, Chief Executive Officer, Institute for Apprenticeships and Technical Education on What does the Journey to a Million mean for apprenticeships?
Neil Armstrong and Merelina Sykes, Joint Heads of Student Property at Knight Frank and Richard Smith, CEO at Unite Students on What does the Journey to a Million mean for student accommodation?
Melody Stephen, Law with International Studies student at the University of Manchester on What does it mean to be one of the Million? The student perspective
Professor Edward Peck CBE, Vice-Chancellor Nottingham Trent University and Department for Education Higher Education Student Support Champion on What does the Journey to a Million mean for the overall student experience?
Heidi Fraser-Krauss, Chief Executive Officer, Jisc on How can technology and blended learning support the Journey to a Million?
Kieron Broadhead, Senior Executive Director, Students and Infrastructure, and Deputy Vice-President (Operations), University of Southampton on What does the Journey to a Million mean for student support services?
Vanessa Wilson, Chief Executive Officer, University Alliance on What does the Journey to a Million mean for civic and community engagement?
Anne Marie Graham, Chief Executive, UK Council for International Student Affairs (UKCISA) on What does the Journey to a Million mean for the international student experience?
Carys Willgoss, Principal Policy Adviser, UCAS on What does the Journey to a Million mean for the global market?
Chris Kirk, Director of UCAS International, UCAS on What does the Journey to a Million mean for international admissions?
To read ALL these contributions to UCAS' national debate on Journey to a Million please visit the following TWO links:
Challenge #5: Scaling student experience
For more information, please contact UCAS Press Office at communications@ucas.ac.uk which is monitored regularly.
Ends
---
Notes for editors
About UCAS' Journey to a Million: 5 Big Challenges & 50 Big Thinkers National Debate
As the UK's largest and most established admissions body for UK HE for 30 years, UCAS has access to unique application and entry data which has led to this campaign. You can find UCAS' projections and modelling on the Journey to a Million and thinking already published here www.ucas.com/j2am.
50 key thinkers have contributed to the debate, and tackle key themes such as:
How do we continue to widen participation?
What are the answers to the imbalance of supply and demand?
How do we support students in a more competitive environment?
How do we promote the full range of choices to students?
What is the future student experience?
All 50 contributions will be available by summer 2023.
The opinions expressed in individual essays are the authors' own, and do not reflect the views of UCAS. The purpose of this campaign is to stimulate debate.
The data
The projection for up to one million applicants by 2030 is driven by:
An increasing 18-year-old population, with the ONS forecasting that there could be nearly 900,000 18-year-olds in the population in 2030– an increase in 180,000 from 2020.
The number of internationally mobile students will continue to grow with the OECD showing in 2000 there were 1.6m internationally mobile students, rising to 5.6m in 2020, and some forecast this could be as high as 9m in 2030.
By 2030, UCAS projections show the most likely scenario is a 30% more higher education applicants relative to 2022, with the most pessimistic scenario seeing growth of 19.5% and the most optimistic showing 41%.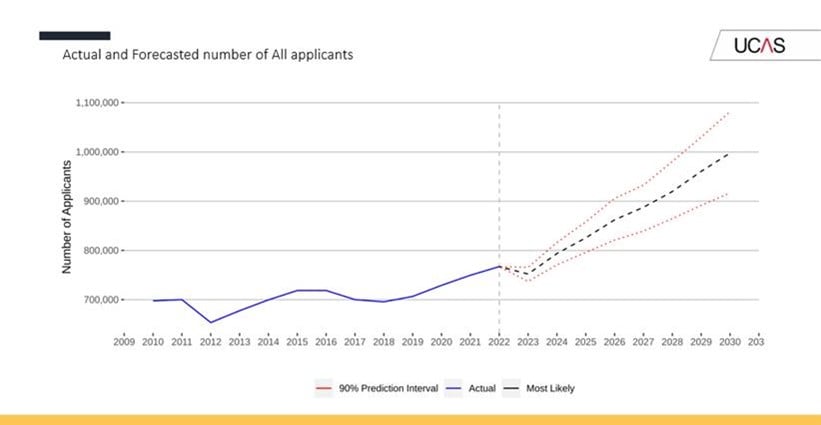 We have also released a press release exploring how the journey to a million could impact student experience and the student housing sector. This is available to view at www.ucas.com/corporate/news-and-key-documents/news/ucas-asks-how-do-we-accommodate-million-applicants.
About UCAS
UCAS, the Universities and Colleges Admissions Service, is an independent charity, and the UK's shared admissions service for higher education.
Our services support young people making post-18 choices, as well as mature learners, by providing information, advice, and guidance to inspire and facilitate educational progression to university, college or a degree apprenticeship.
We manage almost three million applications, from around 700,000 people each year, for full-time undergraduate courses at over 380 universities and colleges across the UK.
We also provide a wide range of research, consultancy and advisory services to schools, colleges, careers services, professional bodies, and employers, including apprenticeships.
We're a successful and fast-growing organisation, which helps hundreds of thousands of people every year. We're committed to delivering a first-class service to all our customers — they're at the heart of everything we do.
---