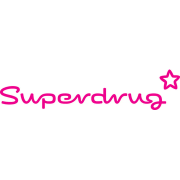 Superdrug
Superdrug - The best thing you can be is just you
At Superdrug we are fresh thinkers. We like to have fun, shake things up, do things a bit differently and give our people great careers.
Choosing an Apprenticeship with Superdrug is a great way to launch your career in retail. Learning on the job whilst being supported by our experienced in-house assessors you will build confidence, understand how the business works commercially and develop both professionally and personally. And you will have fun! This is the 1st step into a career that could take you anywhere; stores, head office, warehouse & distribution; the sky is the limit!
Looking for jobs and apprenticeships? We can match you to potential employers.
Just create a UCAS account and fill in a quick form to tell us what you are interested in, where you live, and how far you want to travel.
Subscribe for smart alerts
Superdrug
51 Sydenham Road, Croydon, Surrey, CR0 2EU
Visit our website
Company information
Headquarters:

Croydon

Founded:

1964