Cardiff may be the most lush student city on the map – and a buzzing hot-spot if you're mad about sport.
It's a capital city full of life and things to do, yet it doesn't feel too big. You can walk everywhere, there's masses of green space, and it's on the coast. There's such a community atmosphere. and it feels safe. (Third year student, Cardiff University)
What Cardiff's famous for...
Rugby
Rugby matters in Wales! You have to catch at least one game at the Principality Stadium.
Creative industries
Cardiff is home to world-leading production companies, including Bad Wolf (His Dark Materials, A Discovery of Witches and I Hate Suzie), Real SFX (an Emmy Award and multi-BAFTA winning special effects company) and Cloth Cat animations (CBeebies and Netflix).
You can even see creative work from Cardiff students around the city, from a Snoopy sculpture trail to street art.
Cardiff nightlife, according to students
The nightlife is amazing and there's something for everyone. Coyote Ugly has to be experienced at least once (if you're brave enough to ride the mechanical bull that is!). If you want a break from clubbing there are something like eight Wetherspoons to choose from (I think, it's hard to keep count!), and tons of other bars and cafes – it's a capital city, so there's a lot of choice. The Alchemist is definitely my favourite if you feel like splurging on a fancy cocktail or two. (Cardiff university student)
Pierhead Building
Explore the Pierhead and discover the importance of Cardiff Docks in shaping Wales' past.
​
Cardiff nightlife, according to students
All the clubs are in the central area of town, mostly situated on St Mary Street and Greyfriars Road, with a few others dotted around. There's also plenty of live music, at places such as Clwb Ifor Bach. If you just want to go out for a bite to eat, there's an abundance of independent food businesses, such as The Grazing Shed (voted best burger in Wales), or 'Chip Alley'. (Third year student, University of South Wales)
City Hall
City Hall stands at the heart of Cardiff as the centrepiece of one of the world's finest civic centres.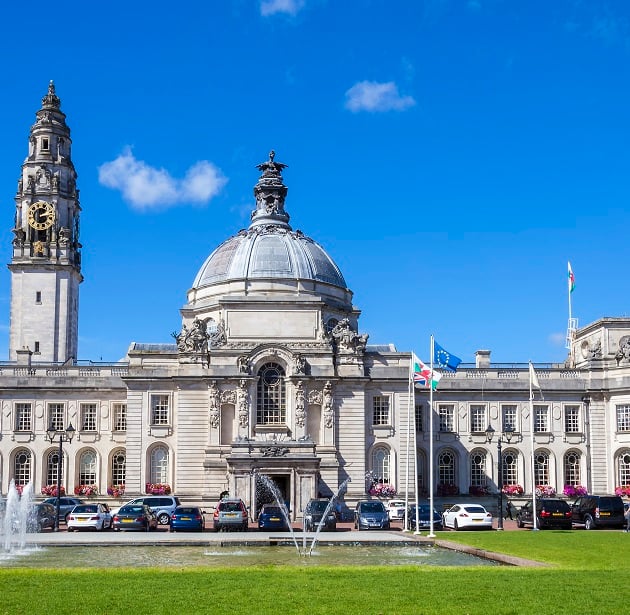 Student life in Cardiff
Local gems, tips, and things to do, as recommended by students.
Friday feeling
The most popular nights out are probably Pryzm and Live Lounge. The comedy club in the bay often has some fun events on the weekends as well. (Third year student, Cardiff University)
Sunday chilling
Roath Park lake is beautiful, and you can hire pedalos. Bute Park has lovely views of the River Taff and the Principality Stadium. (Third year student, Cardiff University)
When family visit
Cardiff Castle is a classic, and [after your first visit] all residents (including students) get a 'key' to the castle allowing free entry. (Second year student, Cardiff University)
Catch up with mates
The Blackweir Tavern pub is popular with students for having events every night of the week, including pub quizzes, game nights, and karaoke! (Cardiff University student)
Feeling cultural
Chapter Cinema is a great little independent cinema that shows nice films in a cosy setting. They also do student rates, and have a lovely cafe. (Cardiff University student)
Low on cash
The National Museum and Cardiff Story Museum are free entry. Cardiff Bay is good for a nice wander. (Second year student, Cardiff Metropolitan University)
Treat yourself
The Clink serves amazing food, and is always in the 'Top 10 restaurants in Cardiff'. It's next to the prison, and the inmates are involved in running the restaurant. (Cardiff University student)
Grab a bite
Blanche Bakery is a really nice cafe to go to with friends, especially if you want an Instagram-worthy photo! They do an amazing beetroot latte (it's sweet, I swear). (Cardiff Metropolitan University student)
Cardiff in pictures
Cardiff Castle
It's in the city centre, and a true staple [of] Cardiff's history, with the castle walls having been used in the Second World War as air raid shelters. A great day out, despite the rain! (Tara Titcomb, third year student at Cardiff University)
Cardiff Castle doesn't just offer you a brilliant view of the city, but also subjects you to the wind and rain Cardiff is famous for! (Sophie Redfern, Cardiff University student)
Find out about upcoming gigs at Cardiff Castle.
Living in Cardiff, according to students
Cathays is brilliant. Everything is, at most, a 15-minute walk. It has its own train station right next to the student union, with trains every half hour, as well as a massive Lidl in the middle and a few other convenience stores. It also boasts seven pubs, and a bunch of cafes and chip shops in Salisbury Road. (Second year student, Cardiff University)
The Millennium Centre
A great place to watch some performances. (Dean Williams, second year student at Cardiff University)
Living in Cardiff, according to students
I decided to get a house [in Roath] because it's very close to the engineering department. It's also halfway between city centre and campus. It's a good area to live in, next to City Road where you can find lots of shops, but not ideal if you want to live close to your friends because everybody tends to live in Cathays. There is way more stuff than Cathays, though: churches, local shops, and supermarkets. It's about five minutes from town, which is ideal for nights out. (Second year student, Cardiff University)
Welcome to Cardiff
All modern signs in Wales feature directions in Welsh and English, usually with the Welsh printed first.
Living in Cardiff, according to students
The opportunities for young creatives in Cardiff are endless thanks to the locality of the film and TV industry and Cardiff becoming a hub of emerging talent in this industry. (Georgia Turnbull, Graphic Communications student, University of South Wales)
Average weekly rents*
Private landlord
£63 - £116
Cheap
Local transport*
£9.40
Week To Go 16-21 My Travelpass
(Bus)
Where you'll find students*
*Average mean rents via Spareroom.co.uk (Feb 2017). Value for money via Which? University Survey 2016. Local transport via local operators' website.
Student money tips
nextbikes are free for 30 minutes for uni students [which] can be convenient if the stations are near your halls. (Second year student, Cardiff University)
The cost of living as a student soon adds up, us our budget calculator to find out roughly how much you'll need each month.
Discover more savings on student life in Cardiff with UCAS student discounts. Find the latest deals, from fashion brands and eating fresh, to big discounts on tech and travel.