Tucked away in the south west corner of England, Falmouth offers a postcard-esque student experience of idyllic beaches, bubbling creativity, and cream teas.
Falmouth has an amazing location, with lots of beaches accessible by foot from the town centre, or by car/bus/train, to The Lizard peninsula, Land's End, St Ives, Newquay, and many more! It's such a great place to live as a student because you have a mix of the nightlife of student town, and the calm life of a coastal town. There are lots of opportunities to get involved with the Cornish culture too, like the Sea Shanty Festival, gig rowing, and all the amazing food! (

Third year student, University of Exeter)
Falmouth nightlife, according to students
Falmouth only really has one main high street so everyone ends up going to pretty much the same places, which is actually quite nice as you're always bumping into people. All of the clubs are five-minute walking distance from each other. There are also plenty of different restaurants, like Pizza Express, Zizzi's, The Shed, The Meatcounter (a great burger restaurant), Harbour Lights (England's best fish & chip shop, apparently), and about 15 different pasty shops! The whole place feels very safe, and I would never worry about walking around alone. Everyone's friends with all the bouncers too, so they're always there to help. There are also lots of quirky pubs and bars: Chintz is very wacky, and Beerwolf literally has a library within it! (Third year student, University of Exeter)
Creativity
Despite its size and far-flung location, Falmouth's creative buzz has blossomed thanks to its university's reputation for arts subjects, in addition to its scenery, festivals, and galleries.
Falmouth nightlife, according to students
As it's quite a small town, there's not too much in the way of clubs, with the main ones being Mangos, Kings, and Club I, although there are lots of one night, word-of-mouth events to look out for. Lots of very small quirky bars and pubs around though, which also tend to host different events from time to time. Never had a bad night out really! (Second year student, Falmouth University)
Tropical paradise
A sub-tropical paradise in Cornwall? Wander through four miles of winding paths and exotic plants at Trebah Gardens – every season has a different 'look'. There's even a private beach.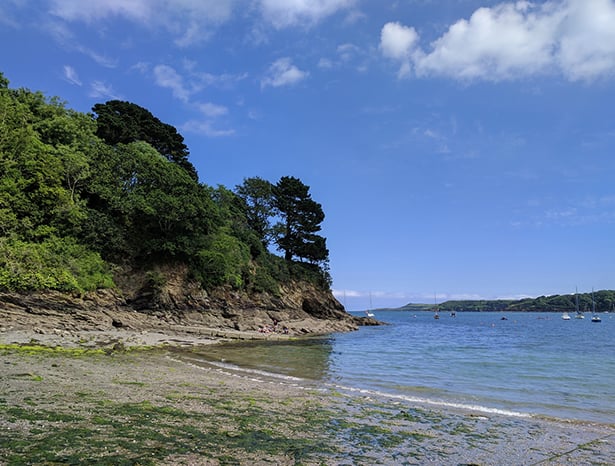 ​
Student life in Falmouth
Local gems, tips, and things to do, as recommended by students.
Low on cash
The donkey sanctuary outside of Penryn [is] free entry (donations appreciated) – a good day out if you want to see sweet donkeys and horses. (Second year student, Falmouth University)
Treat yourself
Seasalt Clothes is a Cornish [clothing] company – the most waterproof coat I've ever had, which is helpful for Cornwall. Restaurant-wise, Rick Stein's restaurant and Harbour Lights come to mind. (Second year student, Falmouth University)
Friday night out
Mangos, Club I, and Kings all pretty much play chart music, but in Club I, you'll also get the cheesy classics. Drum and bass is also very popular here – Fives host great DnB nights. (Second year student, Falmouth University)
Sunday chilling
Usually we walk up to Gylly beach and either sit with a drink, go for a swim, or just go for a walk along the coast. Sometimes we drive to other beaches. My boyfriend and I enjoy going to St Ives for the day. (Third year student, University of Exeter)
When family visit
There's a pottery place you can go and paint your own plates, bowls etc., called Star Glazers. So cute, and run by the loveliest lady. (Second year student, Falmouth University)
Feeling cultural
The National Maritime Museum is always worth a visit. Being a town with an arts university, Falmouth holds many art exhibitions and events, especially at The Poly [arts cinema and venue]. (Second year student, University of Exeter)
Catch up with mates
There are an abundance of small, independent pubs and cafes. Some personal favourites are Beerwolf, The Games Room, Palacio Lounge, and The Shed. (Second year student, University of Exeter)
Grab a bite
Habaneros Burrito Bar, for their burritos and fajitas. You can eat in or take it to go. I usually get a torn chicken burrito box with chipotle sauce, extra guac, onions, and peppers. (Third year student, Falmouth University)
Living in Falmouth, according to students
Penryn – going to Falmouth Campus [University of Exeter], you basically have the choice between living in Falmouth or Penryn. Penryn is much quieter than Falmouth, with fewer shops and services. The houses in Penryn tend to be a little nicer (in my experience), and are largely in quite family-heavy areas. The transport links vary depending on how close your house is from a bus route. However, it would probably never be more than a 20-minute walk to the nearest bus stop or Penryn station. The journey to campus is much shorter from Penryn (it only takes me about 15 minutes), and it is also much closer to the larger supermarkets (Asda, Lidl, and Sainsbury's depending on where you live). However, it can make coming back from a night out a little trickier. (Second year student, University of Exeter)
Sunset
This is what a usual day looks like here. When it's sunny, the sunrise and sunsets are amazing to watch, whether it's on the beach after a surf, or from your flat with a coffee. (Ruby O'Connor, second year student at Falmouth University)
Living in Falmouth, according to students
I chose to live in Falmouth rather than Penryn, as I wanted to be closer to town, and have more accessibility to the beach and nightlife. This suits me really well. It takes me about five minutes to get into town, where you have Tesco as well as the shops and pubs on the high street. A downside of Falmouth is that everywhere is a hill, so going into town is the easy part, but getting back to your house isn't as easy! A bus into uni takes about 20 minutes, but I have a car and it takes ten minutes. I take the rest of my house, and we each split parking which is £6 a day. I tend to drive to Lidl to do my shopping, which works out cheaper for me and is only a five-minute drive. (Second year student, Falmouth University)
Swanpool Beach
My friend, looking from the coastal path towards Swanpool Beach. This was on the second day that I moved to Falmouth. There are so many beautiful coastal walks and beaches to discover. (Poppy, Falmouth University student)
Gylly Beach
It's a great place to have barbecues with friends, look at the rockpools, and swim. (Jasmine Bahra, Exeter University)
Where you'll find students
Town centre
Penryn
Old Hill
Local transport
Weekly ticket: £11.25 approx.
Based on a First Group Falmouth-Penryn Adult ticket (monthly) = £45.00
Bus
Student money tips
Getting the train into town is cheaper than getting the bus – it just might be a little more walking. The shops in town tend to sell their leftover pasties off cheap at the end of the day. There is a free bus to Asda from campus running on Mondays and Thursdays. The Shed do 2-for-1 cocktails every Monday and Friday. (Second year student, University of Exeter)
The cost of living as a student soon adds up, us our budget calculator to find out roughly how much you'll need each month.
​Discover more savings on student life in Falmouth with UCAS student discounts. Find the latest deals, from fashion brands and eating fresh, to big discounts on tech and travel.