The best statements tend to be genuine and specific from the very start. You'll be on the right track if you show your enthusiasm for the subject or course, your understanding of it, and what you want to achieve.
Admissions tutors – the people who read and score your personal statement – say don't get stressed about trying to think of a 'killer opening'. Discover the advice below and take your time to think about how best to introduce yourself.
'The best opening sentences refer to experiences – students need to think about what stands out to them regarding their relationship with their chosen subject… their interest in the subject may have been generated from work experience, voluntary work, hobbies/interests or even from studying it at A Level.'
Preparing to write your personal statement
Start by making some notes. The personal statement allows admissions tutors to form a picture of who you are. So, for the opener, think about writing down things, such as:
why you're a good candidate
your motivations
what brings you to this course
If you're applying for multiple courses, think about how your skills, academic interests, and the way you think are relevant to all the courses you've chosen.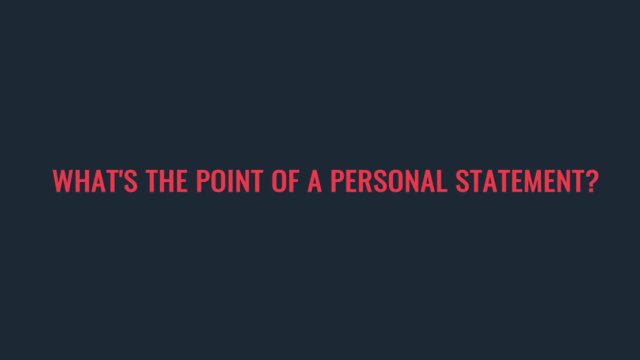 Top tips on how to write your statement opener
We spoke to admissions tutors at unis and colleges – read on for their tips.
1. Don't begin with the overkill opening
Try not to overthink the opening sentence. You need to engage the reader with your relevant thoughts and ideas, but not go overboard.
Tutors said: 'The opening is your chance to introduce yourself, to explain your motivation for studying the course and to demonstrate your understanding of it. The best personal statements get to the point quickly. Go straight in. What excites you about the course and why do you want to learn about it more?'
Be succinct and draw the reader in, but not with a gimmick. This isn't the X Factor.

Admissions tutor
2. Write about why you want to study that course
Think about why you want to study the course and how you can demonstrate this in your written statement:
'Your interest in the course is the biggest thing. Start with a short sentence that captures the reason why you're interested in studying the area you're applying for and that communicates your enthusiasm for it. Don't waffle or say you want to study something just because it's interesting. Explain what you find interesting about it.'
It's much better to engage us with something interesting, relevant, specific and current in your opening line… Start with what's inspiring you now, not what inspired you when you were six.

Admissions tutor
3. Avoid cliches
Try to avoid cliches and the most obvious opening sentences so you stand out from the very first line. UCAS publishes a list of common opening lines each year. Here are just some overused phrases to avoid using in your personal statement:
From a young age…
For as long as I can remember…
I am applying for this course because…
I have always been interested in…
Throughout my life I have always enjoyed…
And try not to use quotes. Quotations are top of the list of admissions tutors' pet hates.
4. Maybe don't begin at the start?
'Concentrate on the main content of your statement and write the introduction last. I think the opening line is the hardest one to write, so I often say leave it until the end and just try and get something down on paper.'
It may be easier to get on with writing the main content of your statement and coming back to the introduction afterwards –that way you will also know what you're introducing.
I often advise applicants to start with paragraph two, where you get into why you want to study the course. That's what we're really interested in.

Admissions tutor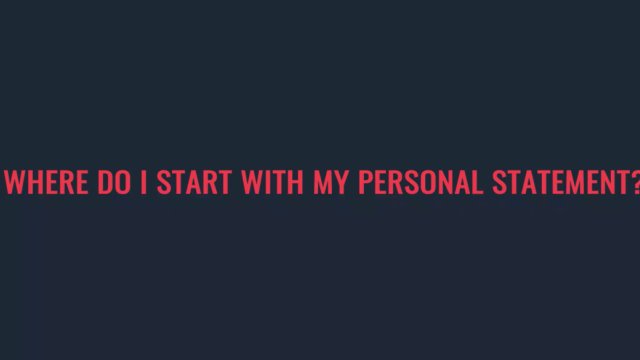 Don't be tempted to copy or share your statement
UCAS scans all personal statements through a similarity detection system to compare them with previous statements.
Any similarity greater than 30% will be flagged and we'll inform the universities and colleges to which you have applied.
Dos
Do talk about you and your enthusiasm for the subject from the very start.
Do be specific. Explain what you want to study and why in the first two sentences.
Do come back to the opening sentences if you can't think what to write straightaway.
Don'ts
Don't waste time trying to think of a catchy opening.
Don't waffle – simply explain what you find interesting about the subject and show that you know what you are applying for.
Don't rely on someone else's words. It's your statement after all – they want to know what you think.
One final thought
Think about making a link between your opening sentence and closing paragraph – a technique sometimes called the 'necklace approach'.
You can reinforce what you said at the start or add an extra dimension. For example, if you started with an interesting line about what's currently motivating you to study your chosen degree course, you could link back to it at the end, perhaps with something about why you'd love to study this further at uni.