Promote your brand in trusted UCAS communications
Feature your message in our student journey emails and newsletters to put your brand at the forefront of future students' minds at important moments in their decision-making journey. From universities and employers to commercial brands, we help brands of all kinds to get in front of the right people at the right time, so you can meet your goals.
77% of applicants rated UCAS 7 out of 10 or higher on trust when it comes to sharing relevant communications from other organisations
(Customer Feedback Survey, 2021)
Time your messages across the student journey
Students get a range of different emails and communications depending on where they are in their application journey, as well as the time of year. We can help you to target content through the awareness, consideration and intent stages, and beyond.
Here are some of the journeys you could feature in:
Pre-applicants – advice on choosing what and where to study, shortlisting from all the options, CV / personal statement tips
Applicants – accommodation, finance and support options, connecting with current students
Unplaced applicants / Clearing – alternative options, courses with vacancies
Placed / accepted applicants – preparing to study, shopping for essentials
Parents / advisers – monthly updates, tips and advice to support these key influencers
Coming soon:
Apprenticeships – information and advice for students considering an apprenticeship
Mature students – bespoke support for students applying later in life
Choose to promote your brand across a series of emails and time of year, or focus on key dates for maximum impact.
Over 1,000,000 students join and trust UCAS each year, with 700,000 applying to university. In 2021, Our journey emails play an important role in their experience, achieving impressive open rates up to 82%.
Highest applicant journey email, 2021
On-demand performance data in one place
As part of any digital campaign, you'll get access to TapClicks, our online dashboard where you can view your performance at any time. This is provided automatically for any campaign you run with us, free of charge.
With daily performance updates, you'll have the most up-to-date information available when it suits you.
You can view online, or download different reports to PDF, CSV or PPT, by channel, chart/table or as a whole – a quick and handy way to present the results visually and share achievements with your colleagues.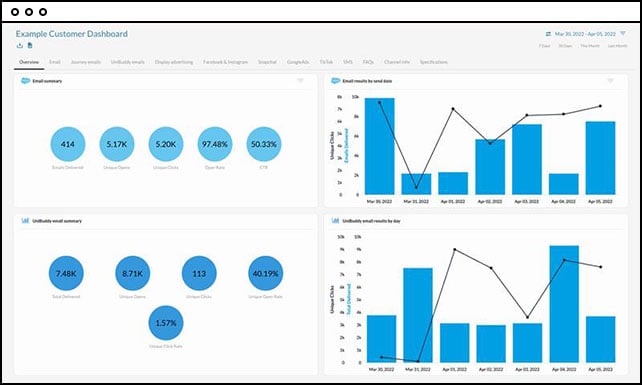 How it works
Match the content themes of our emails to increase conversion with timely messaging.
Switch up your messaging in every email to achieve a multitude of goals across the journey.
Buy a long tenancy and discuss ways to best tailor your ads to increase open rates.
Place ads in our monthly adviser and parent newsletters for exclusive influencer reach.